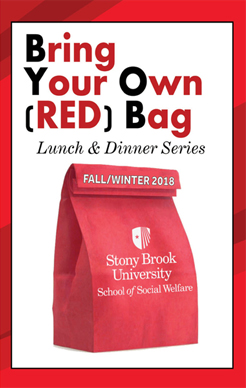 About the Red Bag Series
In Fall 2016, the SSW Staff and Faculty developed the Red Bag Lunch & Dinner Series to provide an opportunity for BSW and MSW students to interact with peers, alumni, and University representatives. Through collaborative efforts and shared resources, SSW students will become acclimated to the campus culture; learn how to navigate their way through the University; increase their advocacy awareness and social justice efforts; utilize support services; and develop the skills needed to persist through to graduation and beyond.
During the Academic Year, programs will be planned for students designed to assist with transitioning into the SSW and the University, building confidence, and fostering community.
Each Red Bag Lunch & Dinner Series is specifically designed to ensure student success.
Spring 2019 Schedule is now "under construction" and will be posted soon.
---
This event has now passed

BSW Registration Answers to FAQ; Student Services
Monday, October 29, 2018, 4:30-5:30pm
Health Science Tower, Level 3, Room 152


---
This event has now passed
Addiction Rehabilitation vs. Incarceration; The Hon. Judge Derrick Robinson
Thursday, November 1, 2018, 6:00-8:00pm
Health Science Tower, Level 2, Lecture Hall 1


---
This event has now passed
MSW Registration Answers to FAQ's; Student Services
Thursday, November 1, 2018, 3:00-4:00pm
Health Science Tower, Level 2, Lecture Hall 2


---
This event has now passed
Facilitating Social Change in the Shinnecock Indian Nation; Aiyan Smith, MSW
Monday, November 5, 2018, 9:00-11:00am
Health Science Tower, Level 2, Lecture Hall 4


---
This event has now passed
Neurological Difficulties Post Intimate Partner Violence; Dr. Kathleen Monahan
Thursday, November 15, 2018, 12:00-1:00pm
Health Sciences Tower, Level 3, Lecture Hall 5