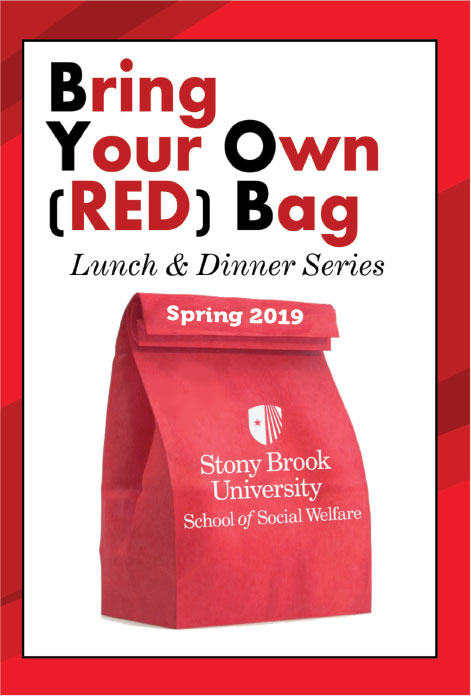 Past Events from Spring 2019:
Sponsored by USWA: LGBT Network: The Counselor's Perspective
Monday, April 29, 4:30 - 6:00 PM
Lecture Hall 1, HST, Level 2

This workshop explores underlying issues facing LGBT individuals, and presents counseling strategies and goals. Topics covered will include how heterosexism, homophobia, and transphobia influences the counselor-client relationship. Issues facing LGBT individuals, risk factors, and best practices will be discussed.
What's Happening at the Southern Border?
Reflections on a social work professor's journey to Tijuana to witness the impact of American policy
Professor Carolyn Peabody, PhD
Wednesday, March 27, 6-8 PM, HST, Level 2, Lecture Hall 1
Conversations With the Dean
Manhattan:
Monday, March 4, 4:00 - 4:45 PM, LH 206
Stony Brook:
Tuesday, March 5, 12:30 - 1:30 PM, SSW Student Lounge
Wednesday, March 6, 12:30 - 1:30 PM, SSW Faculty Lounge

Check back for more workshops!
About the Red Bag Series
In Fall 2016 the Red Bag Lunch & Dinner Series was created to provide an opportunity for BSW and MSW students to interact with peers, alumni, faculty and other University representatives. Through collaborative efforts and shared resources, SSW students will become acclimated to the campus culture; learn how to navigate their way through the University; increase their advocacy awareness and social justice efforts; utilize support services; and develop the skills needed to persist through to graduation and beyond.
---