April 26, 2013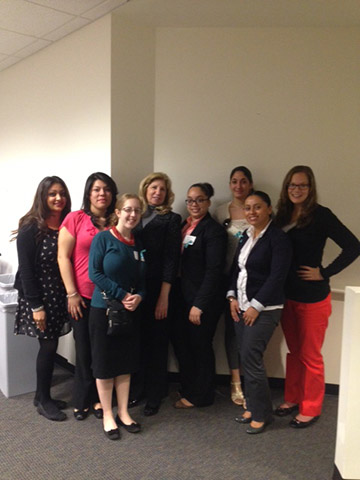 On Friday, April 26, 2013 graduate students in Dr. Monahan's class, "Childhood Sexual Abuse and Long-term Sequelae: Assessment and Intervention" attended the Victim's Information Bureau of Suffolk county (VIBS) spring conference. The conference, "Sexual Assault Prevention and Response" was held at Touro Law School and covered a variety of issues dealing with sexual assault and the criminal justice system response, treatment issues, and the effect of rape on male victims. The highlight of the conference was a keynote presentation by Natasha Alexenko, founder and CEO of Natasha's Justice Project, a organization addressing the needs of rape victims and the criminal justice system.
Pictured right are Mily Eso, Maria Aviles, Hannah Schacht, Dr. Kathleen Monahan, Stephany Pena, Christina Petitti, Karen Lopez, and Molly Follenbaum.
---
October 24, 2011
On October 24, 2011 Stony Brook University held its inaugural Converging Science Summit in the Student Activities Center. This summit was designed to promote collaboration and share best practices in the healthcare fields. The summit, hosted by Stony Brook University Medical Center and the School of Nursing, was a resounding success. Pictured below is Dr. Kathleen Monahan from the School of Social Welfare, and Ms. Carol Forgash, L.C.S.W., a clinical social worker, who presented their poster titled, "The Dental Health Needs of the Adult Sexual Abuse Survivor." The poster outlines some of the issues that adult sexual abuse survivors experience with their dental care, what dentists can do, and how mental health clinicians and dentists can collaborate.