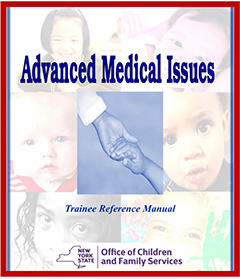 This is an advanced, 2-day course on medical aspects of CPS practice meant to further develop knowledge and skills necessary for CPS staff to make better in depth assessments of a child's medical condition and the caretaker's capacity to follow through on necessary care. It seeks to expand on the medical issues first introduced in the Common Core or its equivalent and CPS-Response Training.
This course will expand upon and deepen caseworkers' knowledge and skills in:
identifying medical indicators and their severity in relation to child abuse and neglect
evaluating consequences of various medical conditions and indicators related to parental ability to protect the child and follow through on treatment
working effectively with medical professionals in a child abuse and neglect investigation
conducting ongoing assessments of safety and risk based on the determined medical issues or needs of the children and family
This training is open to all district CPS caseworkers, supervisors and managers who have completed the Child Protective Services Response Training or its equivalent.
Registration for this training is available on STARS/HSLC. Those without access or for more information, please contact:
Diane Monks, LMSW 631-444-3157 or Diane.Monks@Stonybrook.edu.