The Graduate Student Government (GSG) is a University recognized organization open to all students, faculty and staff.  The objective of the GSG is to meet the unique needs of the students, to foster intrapersonal understanding, to build upon cooperation in field education, and to facilitate problem-solving between the School of Social Welfare administration, faculty, and students.  This organization functions as the propelling force of the SSW by advocating for students, advancing interests, and fostering activities.  It stresses the importance of the values of the profession of social work and is a collaboration of faculty and students to achieve these goals.  Feel free to attend a meeting and check the SSW Update for upcoming events!

E-mail us: 
ssw_gsg@stonybrook.edu

Meet your Government Board Representatives for 2022-2023!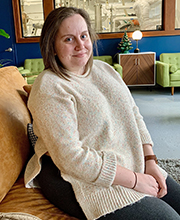 Kathleen DiMartino, President
Hello everyone! My name is Kathleen, my pronouns are she/her, and I am honored to have transitioned from first year representative to president this year. My goal has always been to strengthen the sense of community amongst our graduate students. I am most passionate about mental health, disability rights, and chronic illnesses. 
I attended Stony Brook during my undergraduate years, where I received a B.A. in Psychology and a Minor in Sociology. Much of that time was spent interning for The Center for Prevention and Outreach (CPO), which focused their efforts on mental health and suicide prevention. Because of my interest in higher education, my last field placement was at our school, where I provided support to undergraduate students.
I would love to hear what you think we can do to make this school a better place. I am also a listening ear to anyone that needs it. Feel free to contact me through my personal email at kathleen.dimartino@stonybrook.edu or email us at ssw_gsg@stonybrook.edu
---
Allison Montello-Young, Vice President

Hello! My name is Allison Young and I am excited to be working as your GSG VP this '22-'23 year! I'm currently in my second year of a dual MSW/MPH program, and my first semester as a Nutrition student. I grew up on LI, but I've lived all over the country and did a bit of time in Europe as well. I received a BS in Forensic Science from St. Thomas Aquinas College, along with a minor in Religious Studies. 
I'm currently working on a few projects, including topics such as Ecological Social Work, Nutrition in underserved communities, and ED diagnoses and treatment. I am very invested in working in community health, by not only providing the materials necessary to live, but also helping people experience the joy and comfort they deserve. Empathy is my number one goal, and I continue to work on that as I also continue to work on myself. 
My mission this year as the VP is diversity, inclusion, accessibility, and comfort of everyone in the SSW. If you have any issues, questions, suggestions, or anything you'd like to discuss, feel free to email me at ssw_gsg@stonybrook.edu, or if you'd like to keep it confidential you are welcome to reach out to my personal email allison.montello@stonybrook.edu. I look forward to working for and with everyone, and would love as much feedback as you're willing to give. xx Allison
---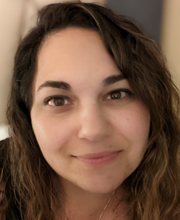 Maria Duchin, Secretary

Hi, my name is Maria Duchin, and my pronouns are she/her/hers.  I am delighted to be your SSW GSG Secretary this year. As a second-year MSW candidate in the CPPSA specialization, I am excited to tackle much needed systemic change. Originally a "Jersey Girl", I received my Bachelor's in Human Ecology with a Concentration in Home Economics Education from Montclair State University. 
I'm a proactive and dedicated social welfare advocate and career development professional with extensive diversified experience in education & training and event coordination. As a humanist and natural helper who possesses excellent people, communication, organizational, and analytical skills, I am recognized as a connector with demonstrated ability to broker relationships yielding to synergy, community partnerships, and strategic alliances.
I currently work as an Employment and Benefits Coordinator at Services for the UnderServed, a non-profit rapid re-housing program serving veterans and low-income individuals and families emerging from housing crisis. I am also the Board Secretary for Hair We Share, a 501(c)(3) dedicated to restoring dignity and confidence to those suffering with medical hair loss by providing human hair wigs, free of charge.
In 2008, I moved to central Suffolk County with my husband, Jared. I'm a proud dog mom who loves to travel, cook, bake, and entertain.
---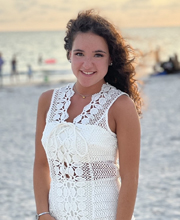 Alexia Bellini, Senator
Hi! My name is Alexia, I am the senator in the graduate student government this year! I am a full time, second year student in the School of Social Welfare. My specialization is Families, Youth, and Transition to Adulthood. I am extremely excited to work with my fellow GSG peers on various opportunities for our fellow classmates! 
I attended St. Joseph's University in Patchogue, NY for my undergraduate degree in Human Relations. I was lucky enough to gain experience in Social Work during this time by connecting with my professors and peers. I am particularly very interested in school social work, as I have a passion for working with youth of all ages. 
As senator, I aim to listen and advocate for each and every student within our program. I look forward to getting to know all of you at our future events! Please do not hesitate to reach out to my SBU email if you have any comments or concerns. alexia.bellini@stonybrook.edu Or feel free to contact us at ssw_gsg@stonybrook.edu.