Important Message to recent MSW graduates/July 12, 2019:
We have heard from some of you that you have been told by the licensing office of the New York State Education Department (NYSED) that the confirmation of your graduation needed to clear you to take the licensing exam is being held up because the School of Social Welfare or the Registrar's office did not fill a form out correctly. This is incorrect. Below is the most up to date information:
Dr. Acconi, Assistant Dean of Student Services, spoke today to the Office of Professions at NYSED who told her very specifically that the school has submitted the correct paperwork. They stated that the Processing Office has the paperwork. It is our understanding that as soon as that Office has completed the paperwork, you will be notified by email that you are eligible to take the licensing exam.
Once again, we have confirmed that the school did complete the correct form (Form 20) and that it was processed by the SBU Registrar's office correctly. All recent graduates were sent an email earlier today with this information.
Spring 2019 Licensing Prep class for graduating MSW students have now concluded
Meet our Test Prep Exam Instructor:
Sunny Maguire, LCSW, graduated from Hunter College School of Social Work and the William Alanson White Institute's Intensive Psychoanalytic Psychotherapy Program. After several years as a psychotherapist in agency, outpatient, and private practice settings, Sunny now trains MSW students and professionals on licensing, as well as social work ethics, clinical practice, career advocacy, and professional development.
All You Need to Know!
Click here (or image below) to learn more about licensing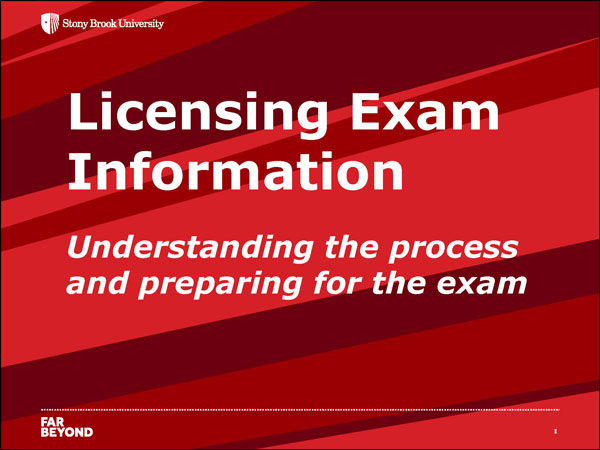 How did you do on your licensing exam? We want to hear from you! By taking this survey, you are eligible to win a prize!* Take the survey here: https://stonybrookuniversity.co1.qualtrics.com/jfe/form/SV_72o5HgAdpI0x0ax
*To be entered into the raffle to win a prize for taking the survey, please send an email: ssw_communications@stonybrook.edu
Social work licensing requirements and rules vary from state to state. For the most current and detailed information about LMSW and LCSW licensing in New York State, read here or visit the NYSED website of the Office of the Professions: http://www.op.nysed.gov/prof/sw/lmsw.htm
Check out the link below:

10 Things to Know About the ASWB Exam