---
Workshops for 2021/2022 will be posted during the Fall 2021. Please check back.
Past workshops: (More to come!)

ETHICS
Instructor: Sunny Maguire, LCSW
Friday, March 19, 1-4:00 pm
What is social work? Everything that social work is including who we are, how we practice, our clients' rights, our responsibilities, is contained in the Code of Ethics.
The Code of Ethics is the guideline to fully understand the role that social work plays in the professional sphere and how we effectively perform that role according to best practices. This workshop will explain the importance of social work ethics and ethical practice and how to use this information in order to study for, and successfully pass the LMSW exam.
DSM-5 REVIEW
Instructor: Dr. Don Sherak
Friday, April 9th 1:00-4:00 pm
This
three hour virtual
workshop
will
provide a concise review of diagnostic criteria associated with the most common disorders and diagnostic categories and will highlight important features, such as subtypes/specifiers and differential diagnosis. The workshop will also review major psychotropic medications.
Sign up today: https://www.signupgenius.com/go/4090C4BABA82EA5FB6-ethics
Click here for News about LMSW Licensing Prep

SPRING 2021 MSW GRADUATES: LMSW TEST PREP INFO.
Read more here


LICENSING EXAM INFORMATION AS OF FEBRUARY 22, 2021
Click this link or the image below to view a PowerPoint that has information you need to know about Licensing:
LICENSING PP INFO 2.22.21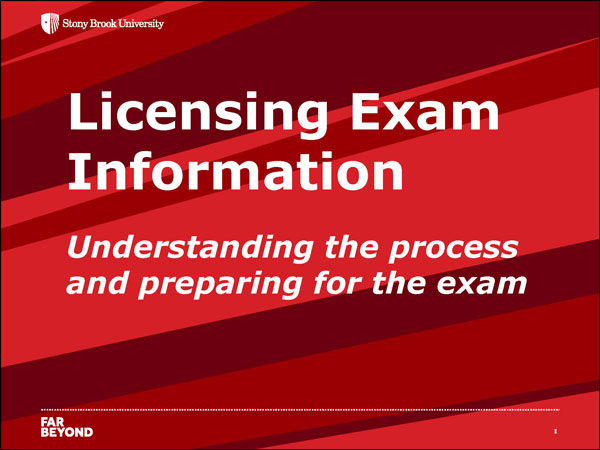 How did you do on your licensing exam? We want to hear from you! By taking this survey, you are eligible to win a prize!* Take the survey here: https://stonybrookuniversity.co1.qualtrics.com/jfe/form/SV_72o5HgAdpI0x0ax
*To be entered into the raffle to win a prize for taking the survey, please send an email: ssw_communications@stonybrook.edu
Social work licensing requirements and rules vary from state to state. For the most current and detailed information about LMSW and LCSW licensing in New York State, read here or visit the NYSED website of the Office of the Professions: http://www.op.nysed.gov/prof/sw/lmsw.htm
Check out the link below:

10 Things to Know About the ASWB Exam