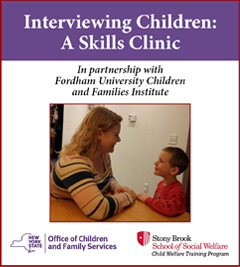 Interviewing Children: A Skills Clinic, in partnership with Fordham University Children and Families Institute:
http://www.fordham.edu/childrenfirst
This one-day course or "skills clinic "will help caseworkers gain knowledge and build skills and techniques to enhance their ability to conduct comprehensive, developmentally appropriate interviews with children and their families/caregivers. The topical areas for this training will build on the knowledge and skill base developed in Child Welfare Foundations Program and Child Protective Services Response Training (CPSRT) to help them elicit information necessary for assessment of well-being and child and family progress toward goals. There are two (2) distinct trainings; one (Child Welfare) is offered to preventive, foster care and adoption caseworkers, and voluntary agency caseworkers, supervisors and administrators; the other (CPS) is for child protective services caseworkers, supervisors and administrators.
Only 12 are admitted into each class. The small class size will enable this to be an intensive workshop conducted by two (2) trainers for maximum trainee benefit.
Registration for this training is available on HSLC to eligible caseworkers. Those without access or for further information please contact Children and Families Institute:
JoAnne McMahon ajomcmahon@fordham.edu