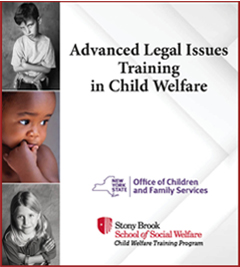 Advanced Legal Issues
This is a 2-day course that is designed to expand on the legal issues first introduced in Child Welfare Foundations Program and Child Protective Services Response Training (CPSRT). As a result of this training, it is expected that participants will further their knowledge and skills necessary to help them facilitate child abuse and neglect cases through the Family Court system. More specifically, participants will learn how to perform and document a thorough investigation, develop good petitions, dispositions and orders, and develop and enhance their skills for testifying.
This training is open to Local Departments of Social Services (LDSS) Child Protective Services (CPS) and child welfare caseworkers, supervisors, and managers who have completed the Child Welfare Foundations Program.
Registration for this training is available on HSLC to eligible caseworkers. Those without access or for more information please contact:
Diane Monks, LMSW 631-444-3157/diane.monks@stonybrook.edu