Behavioral Health Concerns and the Use of Psychotropic Medications with Children & Adolescents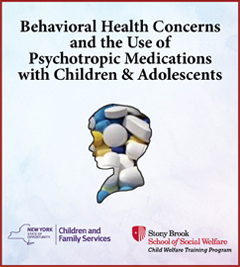 More and more, DSS and voluntary agency caseworkers are confronted with many challenging circumstances for which questions about "best practice" surface. This occurs frequently with respect to the treatment and case-management of youth in care who have mental health issues. This 1-day course will provide participants with basic knowledge about behavioral health concerns, psychotropic medications, and treatment applications so that they are able to support each child's treatment plan and advocate for each child's well-being on issues of mental health treatment.
As a result of this training, participants will have a better understanding of behavioral health concerns and the role of psychiatric and behavioral medications as part of a child's comprehensive plan of care. Overall, this course will help trainees distinguish among symptoms of some mental health disorders and gain familiarity with the different classes and medications used to treat mental health problems in children and adolescents
This training is open to all local Departments of Social Services (LDSS) Child Protective and child welfare caseworkers, supervisors and managers and voluntary agency child welfare staff.
Registration for this training is available on HSLC to eligible caseworkers. Those without access or for more information, please contact:
Diane Monks, LMSW 631-444-3157/ diane.monks@stonybrook.edu