The Graduate Student Government (GSG) is a University recognized organization open to all students, faculty and staff.  The objective of the GSG is to meet the unique needs of the students, to foster intrapersonal understanding, to build upon cooperation in field education, and to facilitate problem-solving between the School of Social Welfare administration, faculty, and students.  This organization functions as the propelling force of the SSW by advocating for students, advancing interests, and fostering activities.  It stresses the importance of the values of the profession of social work and is a collaboration of faculty and students to achieve these goals.  Feel free to attend a meeting and check the SSW Update for upcoming events!

E-mail us: 
ssw_gsg@stonybrook.edu

Meet your Government Board Representatives for 2023-2024!
Allison Montello-Young, President

Hello! My name is Allison Young and I am excited to be serving as your GSG President for '23-'24! I'm currently in my final year of a dual MSW/MPH program, specializing in Community Health. I grew up on LI, but I've lived all over the country. I received a BS in Forensic Science from St. Thomas Aquinas College, along with a minor in Religious Studies.  I'm currently specializing in nutrition, health, and ecology, and how community organizing, policy, and advocacy supports wellbeing in these areas. I am invested in continuing my work in community health, by not only providing the materials necessary to live, but also helping people experience the joy and comfort they deserve. Empathy is my number one goal, and I continue to work on that as I also continue to work on myself. 
My mission this year as President is to foster a community of students that prioritizes equity, diversity, inclusion, accessibility, and comfort of everyone in the SSW, as well as supply the student body with events, trainings, resources, and advocacy that will enhance their experience here at SBU, and stay with them in their future careers.
If you have any issues, questions, suggestions, or anything you'd like to discuss, feel free to email me at ssw_gsg@stonybrook.edu, or if you'd like to keep it confidential you are welcome to reach out to my personal email allison.montello@stonybrook.edu. I look forward to working for and with everyone, and would love as much feedback as you're willing to give. xx Allison
---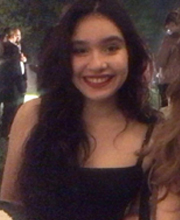 Cristina Bergara, Vice President
Hello! My name is Cristina Bergara and my pronouns are she/her. I am super excited to be your Vice President on GSG for 23'-24 year. I am in my final year of the full time program specializing in Families, Youth, and Transition to Adulthood (FYT). I received my B.A in Psychology at Stony Brook and am originally from Westchester, NY. 
Outside of Stony Brook my role within the community is being a part time shift supervisor for Response Crisis Center. During my experience in my current position, I have learned that there is a large need for social workers to work out in the communities working on different interventions and community programming to support individuals. I'm a strong advocate for all things mental health and suicide prevention. I truly believe that the work we are doing right now as students will impact our communities in more ways than we can imagine. I hope to offer students a listening ear and hope to advocate for the best interest of all students in this program. Please feel free to email me cristina.bergara@stonybrook.edu if you have any questions, comments or any concerns you are facing. 
---
Mai Han, Secretary

Hello everyone! My name is Mai Lin Han, my pronouns are she/her, and I am honored to be the Secretary for the school year of 2023-2024. I am currently in my third year in the part-time program specializing in Integrative Health. I currently work full time as a Senior Case Manager at Victory Recovery Partners in Massapequa,  a chemical dependency treatment program for Substance Abuse and Addiction. I am also one of the bilinguals' providers at my agencies dedicated to finding services to the Spanish Speaking Population.
I've received a B.A in Sociology at SUNY Cortland and have worked as a case manager for the last 6 years in various human service programs such as: Samaritan Daytop Village (Huntington Station, NY), Family Service League (Bay Shore, NY) and Children and Family Services (Cortland, NY). My experience working with these organizations has opened many opportunities of networking and finding resources to assist the clients in addressing their specific needs.  Please feel free to reach out to me with any questions, concerns or resources you need for your field placement at mai.han@stonybrook.edu.  Also be on the lookout for upcoming events to make this school year a great one! 
---
Melissa Torregrossa, Senator

Hi everyone! I'm Melissa Torregrossa, and I couldn't be more excited to serve as your Class Senator for the '23-'24 year. My educational journey into the world of social work began right here at SBU, where I earned my BSW in 2023. Right now, I'm in my advanced standing MSW program, specializing in Community, Policy, and Political Social Action (CPPSA). 
During my undergraduate years, I had the pleasure of wearing two hats as both Class Senator and Treasurer for the Undergraduate Social Welfare Alliance (USWA). These roles allowed me to get to know our student body inside out and foster some wonderful connections along the way. Beyond campus, I'm your MSW representative to the board for NASW: NYS.  I currently work full time as Lead Patient Care Advocate for Mindful Care, providing same-day/next-day psychiatry, therapy, and substance use services through Telehealth or select in-person locations spanning across 6 states and still growing!  My mission for the upcoming year is simple: I'm here to be your voice and make sure every student feels not just heard, but truly valued. Please, do not hesitate to reach out to me at melissa.torregrossa@stonybrook.edu for anything you may need, and let's work together to make this year another amazing one!