Deans of Stony Brook University's Schools of Social Welfare, Dental Medicine, and Nursing, Discuss The Impact of Their Programs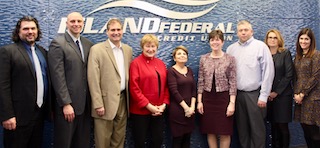 January 2018 - Tuesday morning presented a unique opportunity to business and community leaders: a conversational breakfast with three deans from prominent Long Island schools. Deans of Stony Brook University's Schools of Dental Medicine, Nursing, and Social Welfare connected to discuss the challenges and opportunities facing of each of their programs, with a particular focus on education, patient care and their impact on the community. The breakfast, generously hosted by Island Federal Credit Union, opened with informal introductions and conversation about the unexpected snowfall over much appreciated hot coffee.
Once gathered around the table, Lee Xippolitos, RN, PhD, Dean, Stony Brook University School of Nursing, led the discussion. Dr. Xippolitos addressed the persistent shortage of nurses within New York, stating that the School of Nursing has "developed stronger partnerships with hospitals across the region," to alleviate the need. Dr. Xippolitos explained their commitment towards producing "compassionate nurses and nurse leaders," that will, in turn, provide unparalleled patient care. According to Dr. Xippolitos, the School "partners with engineers, microbiologists, social workers and others to think through treatment approaches that will aid patients locally and across the world."
Similarly, Mary Truhlar, DDS, MS, Dean of the School of Dental Medicine, and Jackie Mondros, DSW, Dean of the School of Social Welfare, consider their Schools essential in educating the next generation of healthcare providers with a focus on adaptability to technology and alignment with today's trends in health care.
Dr. Truhlar continued the conversation by expressing the importance of integrating technology into the dental classroom, and later into the students' future practices. Dr. Truhlar explained that the School of Dental Medicine is one of five schools nationally to pilot a Digital Dentistry Curriculum which, "advances our program in terms of teaching and training in diagnostics, dental care and oral function." Dr. Truhlar also emphasized services provided by the School's Mobile Oral Health Care Services Clinic, a mobile dental van equipped with three dental operatories, radiographic units, and a complete set of support equipment. In future years, the mobile dental clinic's outreach activities are set to expand to additional homeless shelters and school districts on the Eastern end of Long Island.
Dr. Mondros underscored the necessity of social workers, citing that "social and behavioral conditions account for 60% of health and wellness." Dr. Mondros added that integrated physical and behavioral health is the way of the future: "it makes for better health outcomes, increases access, and lowers cost." Furthermore, "combining that with on-site local help for things like housing, transportation, and benefits, will prove to be even more effective."
Provision of care to the underserved is a unified mission of the three deans and their respective schools. The Partnership to Advance Collaborative Education (PACE) Center, located within the School of Dental Medicine's Dental Care Center, serves as an inter-professional wellness center that focuses on meeting the health promotion and disease prevention needs of adults on Long Island. The PACE program brings together representatives from each of the three schools to work closely with individuals, families and communities to address health promotion, disease prevention, oral health and service needs.
Of the breakfast and his interaction with Deans Mondros, Truhlar, and Xippolitos, local business-representative Gary Cucchi, Vice President of Progressive Marketing Group, Inc., said: "It's gratifying to learn how Stony Brook continues to grow its education programs for skilled healthcare careers." Cucchi added, "I've always found that Stony Brook delivers on its mission, and listening first hand to the Deans of the Nursing, Social Work and Dental Medicine programs reinforced that the University is making a difference in the lives of young bright stars."