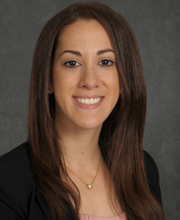 Melissa L. Bessaha, PhD, LMSW, MA
Associate Professor
Chair: Families, Youth, & Transition to Adulthood Specialization
Email: Melissa.Bessaha@stonybrook.edu
Phone: 631-638-2514

Curriculum Vitae

EDUCATION
Ph.D., University of Maryland, (Social Work)
M.S.W., New York University
M.A., Stony Brook University
B.S., Stony Brook University
---
AREAS OF INTEREST
Mental health and educational disparities among youth and young adults, Immigration and social determinants of mental health during the transition to adulthood, Influence of social relationships, Higher education equity, Social Work in higher education, Evaluating programs serving transition age youth

---
SELECTED PUBLICATIONS
Bessaha, M.L., Persaud, U.*, Asfe, R.*, & Muñoz-Laboy, M. (2023, online first). Community-based providers' perspectives on addressing loneliness and mental health services for migrant youth and emerging adults. Journal of Social Service Research. https://doi.org/10.1080/01488376.2022.2164640

Deluca-Acconi, R., Bessaha, M.L., Mendoza, M., & Valesquez, N. (2022). How did we get here and where do we go from here?: Supporting undocumented students through a pandemic. School Psychology, 37(2), 202–211. https://doi.org/10.1037/spq0000491

Lu, W., Bessaha, M.L., & Muñoz-Laboy, M. (2022). Examination of young US adults' reasons for not seeking mental health care for depression, 2011-2019. JAMA Network Open, 5(5), e2211393-e2211393.

Brown, S., Sabbath, E.L., Cosby, R., Bessaha, M.L., Munson, M., Kong, J.E. Crewe, S.E., Tracy, E.M., & Lubben, J. (2022). Eradicate social isolation. In Barth, R.P., Shanks, T.R., Messing, J., & Williams, J.H. (Eds.). Grand challenges for social work and society. (2nd ed.). London: Oxford University Press.

Bessaha, M.L., Reed, R., Donlon, A., Mathews, W., Bell, A., & Merolla, D. (2020). Creating a more inclusive environment for students with disabilities: Findings from participatory action research. Disability Studies Quarterly, 40 (3). http://dx.doi.org/10.18061/dsq.v40i3.7094

Bessaha, M.L., Cornelius, L., & Unick, G.J. (2020). Barriers to behavioral health service utilization among first-generation immigrant emerging adults. Social Work in Mental Health, 18(1), 55-74. https://doi.org/10.1080/15332985.2019.1679323
Bessaha, M.L., Sabbath, E.L., Morris, Z., Malik, S., Scheinfeld, L., & Saragossi, J. (2020). A systematic review of loneliness interventions among non-elderly adults. Clinical Social Work Journal, 48 (1), 110-125. https://doi.org/10.1007/s10615-019-00724-0

---
SELECTED PRESENTATIONS
Bessaha, M.L., Persaud, U.*, Asfe, R.*, & Muñoz-Laboy, M. (2023, January). Social isolation and loneliness among migrant youth and emerging adults: A community-based providers' perspectives on enhancing access to mental health services. Poster presentation at the Society for Social Work and Research (SSWR), 27th Annual Conference: Social work Science and Complex Problems: Battling Inequities + Building Solutions. Phoenix, AZ.
Bessaha, M.L., Mushonga, D., Fedina, L., & Devylder, J. (2022, January). Loneliness, social support, and mental health service use during the transition to adulthood. Symposium presentation, "Social Isolation and Social Support in the Context of Adversity: Risks and Resilience" at SSWR, 26th Annual Conference: Social Work Science for Racial, Social, and Political Justice, Washington, D.C.
Shimizu, R. Bessaha, M.L., Ben-David, S., Moore, K., Rodwin, A., & Munson, M. (2021, January). Recovery among young adults with serious mental illness. Presentation at SSWR, 25th Annual Conference: Social Work Science for Social Change. Virtual Meeting.
Bessaha, M.L. Reed, R., Donlon, A., Matthews, W., Bell, A., & Merolla, D. (2019, October). Voices heard: College students with disabilities use participatory action research to enact campus-wide change. Symposium at the Society for the Study of Emerging Adulthood, 9th Conference, Toronto, ON.
Bessaha, M.L. (2018, July). Barriers to mental health service utilization among emerging adult immigrants in the United States. Presentation at the Joint World Conference on Social Work, Education and Social Development (SWSD), Dublin, Ireland.

---
GRANTS/AWARDS
Stony Brook University Office of the Vice President for Research (OVPR) Seed Grant ($50,000; 2021 – 2022)
Stony Brook University Diversity Initiative Grant ($50,000; 2021 – 2022)
Substance Abuse and Mental Health Services Administration (SAMHSA): Minority Fellowship Program, provided through the Council on Social Work Education (CSWE)($22,900; 2015 – 2016)