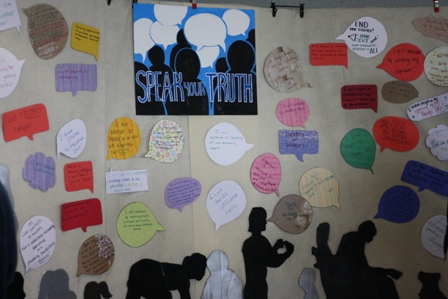 Advocacy Day provides both undergraduate and graduate students an opportunity to connect with one another to learn about policy issues and the people and organizations that are working for social change. It is an important annual event for students because interacting with organizations working for social change is a first step toward achieving that goal.

Students learn different ways to incorporate advocacy skills into their future careers, and introduce all students to areas of social justice of which they may want to become more familiar. The day begins with an opening performance and speech followed by break out workshops on specific movements. These workshops give students the opportunity to learn skills and insights to help integrate advocacy into their future. Students are encouraged to become involved with these professional groups, movements, and other outreach programs focused on a specific area of social justice that is featured each year.

"We hope that students will get a sense of the range of possibilities available from working for social and economic justice, and that the event will help them to see the importance of advocacy, in particular as a means of being able to move in the direction of the change they're working toward," said Carolyn Peabody, a clinical associate professor in the School of Social Welfare and a faculty advisor for the event.

To see highlights from Advocacy Day 2017, Disability Justice, click here.