The School of Social Welfare was well-represented at SSWR's (Society for Social Work & Research) 21st annual conference in New Orleans in January. Professors Melissa L. Bessaha, Amy Hammock, Anna R. Hayward, George S. Leibowitz and Kathleen Monahan presented at the conference, themed "Ensure Healthy Development for All Youth". SSWR supports social workers, social welfare professionals, social work students, social work faculty and researchers in related fields.
The presentations from School of Social Welfare faculty included:
Predictors of Hospital Length and Cost of Stay in a National Sample of Adult Patients with Psychotic Disorders, Melissa L. Bessaha, Ph.D

The Persistence of Trauma and Its Association with Relationship Strain Among World Trade Center Responders: A Qualitative Analysis of 35 Oral Histories, Amy Hammock, Ph.D

Advancing a Community-Engaged Research Agenda to Address the Grand Challenge of Creating Social Responses to a Changing Environment, Anna R. Hayward, Ph.D

Impacts of Lifetime Criminal and Neglect Histories on Father Involvement, Anna R. Hayward, Ph.D

Does Being Married Matter? Exploring Father Involvement Across Marital Status in a Sample of Low-Income Fathers, Anna R. Hayward, Ph.D

SIG: Forensic Research, Practice, Education, and Advocacy, George S. Leibowitz, Ph.D

Risk Factors Associated with Prostitution Among Adjudicated Adolescent Males : Implications for Social Work, George S. Leibowitz, Ph.D

Predictors of Recidivism Among Incarcerated Elders: Do Sex, Drugs, or Violent Offenses Matter?, George S. Leibowitz, Ph.D

An Exploration of Social Workers and Sibling Ordinal Position, Kathleen Monahan, D.S.W.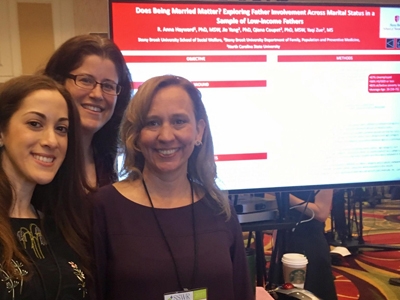 (from left: Melissa L. Bessaha, Ph.D., Amy Hammock, Ph.D., Anna R. Hayward, Ph.D)