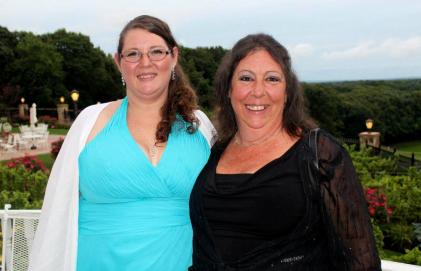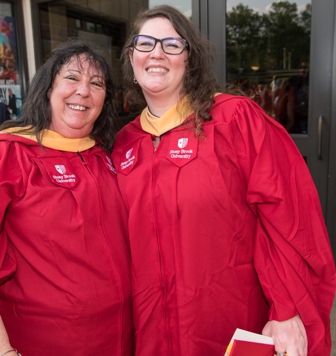 Judith Fischer and her daughter Stephanie Dick will graduate together on May 19 when they both receive their MSW degrees. "This is a very exciting time in our lives and has been such a unique experience for both of us to be graduating from Stony Brook University School of Social Welfare with our masters degrees as mother and daughter. The interesting part is that although we both shared the same coursework within the program, each of us took away completely different experiences."

Judith returned to school in 2011 at Suffolk Community College and majored in Psychology. Stephanie watched her mom in that first year and was so motivated by her mom's enthusiasm, that she returned to Suffolk Community College in 2012, majoring Psychology with a minor in Sociology . For the next few years, she remained one year behind her mother and as she finished her BA in Psychology at Stony Brook, Stephanie began her BSW.

Stephanie so loved the Social Welfare program and inspired her mother to apply for the 2 year Masters in Social Work program. After graduating with her BSW, Stephanie applied to the advanced standing 1 year Masters program and was accepted. In Judy's last year of the Masters program and Stephanie's advanced standing year, they caught up to each other and even enjoyed being in two classes together.

Stephanie was involved in the Flint, MI water drive with her cohort from the undergraduate program, where they collected water and donations for weeks and then drove 13 hours over night to Michigan and hand delivered water to residents effected by the water crisis. Her journey has taken her on a social justice, equality and social welfare route. She started interning at Community Housing Initiative working with homeless families first and is now at Outreach where she works with adolescents and their families. Her other interest involves motivational speaking.

Judy's internships in the South Huntington School district and the Long Island State Veterans Home involved working disadvantaged children who struggled with school and home life and then honorable veterans at end-stage of life. She has worked with developmentally "abled" children and then in a mental health setting working with individuals with severe mental illnesses. Today Judy is starting her own non-profit for homeless veterans and providing transitional housing for them while they recover. Both Stephanie and Judy are so grateful for the wonderful education and experience Stony Brook University School of Welfare has given them. Individually they look forward to their career paths with the confidence that their solid educational background will provide great success for both of them.