A Special Announcement from Dean Mondros: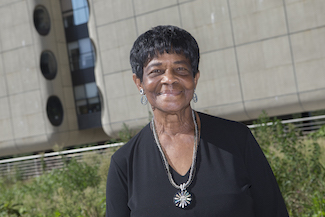 As we look forward to the start of a new academic year, I am reaching out to our entire school community to share a special announcement regarding the creation of The Frances L. Brisbane School of Social Welfare Student Lounge. As many current and former Social Welfare students can attest, the School has long needed a dedicated area for student collaboration and relaxation. It therefore gives me great pleasure to announce the opening of this new, student-dedicated area which is being named in Dr. Brisbane's honor.
Located on Health Sciences Tower, Level 2, adjacent to the main entrance of the School of Social Welfare, the Brisbane Student Lounge will provide a welcoming space for students seeking individual or group space to convene between classes and other campus commitments. A combination of informal social space and "quiet room" work space, the Brisbane Lounge will facilitate team projects and group study as well as provide a convenient social space for our students to connect with one another.
It is a distinct pleasure to be able to honor Dr. Brisbane for her many years of leadership at Stony Brook and for the momentous impact she has had in so many ways on our community of students, faculty and staff. One of the key hallmarks of Dr. Brisbane's legacy at Stony Brook University is her lifelong commitment to cultivating and supporting the next generation of social workers. We are delighted that the Brisbane Student Lounge will allow that legacy to thrive for the next generation of our Social Welfare student body.
To help us celebrate Dr. Brisbane's remarkable decades of leadership and her impact on our School, Stony Brook University President Dr. Samuel Stanley will host a recognition ceremony honoring Dr. Brisbane later this summer. We invite everyone from the School of Social Welfare community to join us on Thursday, August 23, 2018, at 4:30 p.m. in the HST Level 5 Patio (HST Level 5) for a special program and reception to mark Dr. Brisbane's outstanding contributions to the field and to the life of our School. A formal invitation from President Stanley's office will be widely distributed and shared on our FB page.
Sincerely,
Jacqueline B. Mondros, DSW


Alumni, friends, family and colleagues gathered to celebrate!