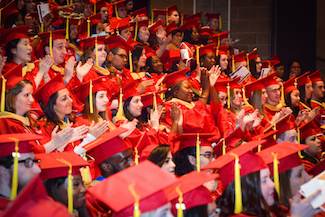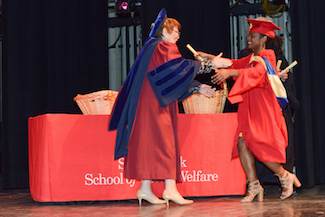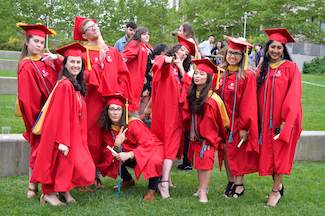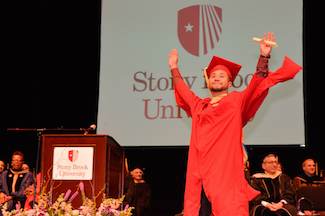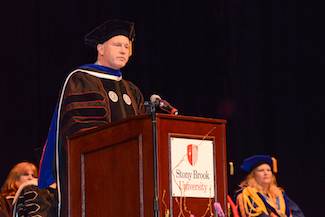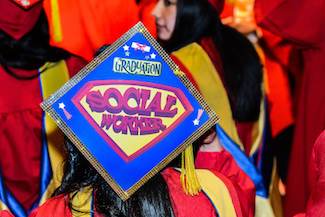 The most important event of the year, Commencement, was held on Friday, May 18. Degrees were conferred on 303 students who earned BSW, MSW or Doctoral degrees.

Dr. Jeffrey L. Reynolds was the keynote speaker. An SSW alum, Dr. Reynolds earned a doctorate from Stony Brook University's School of Social Welfare in 2007. He is the President and Chief Executive Officer of Family and Children's Association (FCA), one of Long Island's largest health and human organizations.
In her welcome remarks, Dean Jacqueline B. Mondros reminded the graduates, "We have to be relentless in our commitment to justice and ending inequality and racism and yet skillful at bringing people together to work on common goals. To succeed over the course of your career, you will need a strong social work network for support. The friends you made in school will be critical to your future so please stay in touch with each other. And please stay in touch with the School – come back as alumni, as future field instructors, perhaps as future classroom instructors. And please remember to take some time for fun and self-care. Speaking of your social network, before today you were students, and the faculty were your mentors. Today you join us as colleagues and will work alongside us." A reception followed the ceremony will.
Congratulations to the degree recipients! To view photos, click link: https://goo.gl/3mV8Wj